This is the Main menu of Solstar 2001. For a description of the buttons please scroll down.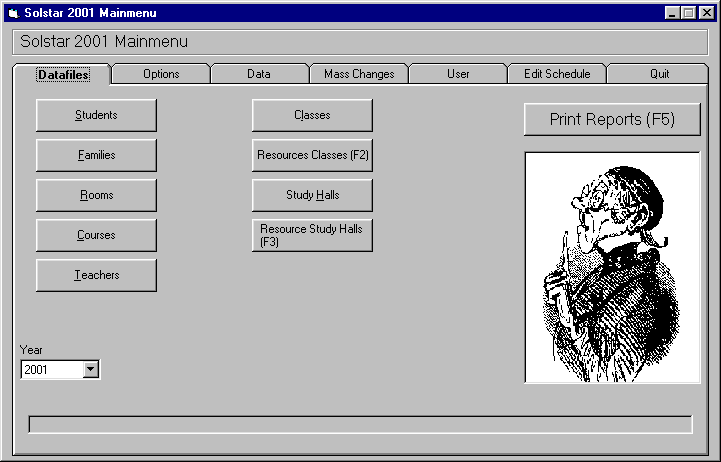 This is the main menu of Solstar 2001
Click on any tab or button to simulate the function
Description of the buttons and tabs
The tabs:
If you click on a tab the desired index card will be shown on the screen. E.g. clicking on "Options" brings you to the options of Solstar 2001.
The buttons:
| | | |
| --- | --- | --- |
| | : | This button brings you to the input mask for the personal student data (e.g. name, address, telephone number). |
| | : | This button brings you to the input mask for the personal data of the family (e.g. name, address, phone numbers, housing type). |
| | : | This button brings you to the input mask where you can specify the rooms your school has for teaching (e.g. room number, number of seats). |
| | : | This button brings you to the input mask where you can enter the courses your school offers (e.g. English, Biology). |
| | : | This button brings you to the input mask where you can enter the data of the teachers (e.g. name, homeroom, reserved classroom) |
| | : | This button brings you to the input mask where you can define the classes (e.g. which course is taught in which room). |
| | : | If you want to use the Master Schedule Generator you don't define the classes, but their resources. This button brings you to the input mask where you can define them. |
| | : | This button brings you to the input mask where you can define which room is meant to be used as a study hall. |
| | : | If you want to use the Master Schedule Generator you don't define the study halls, but their resources. This button brings you to the input mask where you can define them. |
| | : | When you press this button a window with a list of reports opens. |
| | : | This combobox lets you choose the year, if more than one year is available in the database. |